OUR SERVICES
Service Inclusions
Title Searching
Title Re-establishments
Subdivisions
As Constructed Plans
Feature Surveys
Building Setouts
Construction Controls
Volume Calculations
Control Surveys
Mapping
Infrastructure Surveying
Water Industry Surveys
The team at Wayne Mitchell Surveying uses the latest available technology to develop a customised solution using GPS with GIS compatibility for the accurate and effective collection of data, and the production of drawings.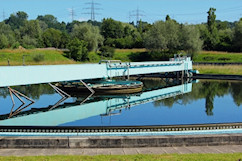 The use of GPS technology falls well within the water industry's surveying standards and provides the added benefit of elevation data for each point captured, and provides the seamless transfer of captured data from GPS into GIS, increasing the overall surveying efficiency whilst reducing the likelihood of human error.

WMS have performed surveys for many water industry related projects such as reservoir capacity surveys, wastewater treatment systems, sewerage schemes, drainage schemes, water recycling systems and mains water supply systems.

We work closely with our clients in the field to provide the most comprehensive and accurate data possible.